4 simple ingredients. Beautiful skin.

Body Butter by Kelley is a plant based moisturizer, designed for dry and sensitive skin, as well as soothing eczema symptoms. With four simple ingredients and no preservatives, this product cooperates with your skin's natural healing ability. This multi purpose moisturizer can be used on your skin as well as your hair and scalp. For best results, apply immediately after a shower or bath for all day moisture.

We give back. For every jar that we sell, we give away a jar to the homeless.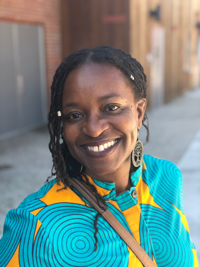 A message from our Founder:
The product was born out of my need for a safe moisturizer that smelled great. As a young child, I experienced severe eczema and dry skin. Doctors prescribed creams that were heavy and sticky. When I reached my teenage years and wanted to smell good, I would mix essential oils into the creams, because the alcohol in perfumes would irritate my skin.

About 15 years ago, I was gifted body butter from a vendor at a local outdoor market and I loved it. But getting to the outdoor market when I ran out of product became a challenge. At the prompting of my husband, I began experimenting in the kitchen with four simple ingredients: cocoa butter, shea butter, coconut oil and olive oil. I added essential oils for scent and finally found a blend that worked for my family.
This is the only moisturizer I use on my entire body - I even use it on my natural hair. I use it in the morning and remain moisturized all day.
There is a great deal of peace that comes from knowing exactly what I'm putting on my skin - it's also pretty cool when folks turn to me and say "you smell great!" and I can tell them I made it myself.
I hope you enjoy this product as much as we do. Visit us on Instagram and let us know your favorite scent!
Kelley Nayo-Jahi
Founder and CEO
Body Butter by Kelley